Donald Trump has warned Republicans to fight Democratic efforts to expand mail-in voting, saying it would negatively affect the GOP's election chances in 2020.
The latest call to action comes after Republicans successfully opposed attempts to postpone the Wisconsin primary amid coronavirus fears.
"Republicans should fight very hard when it comes to state wide mail-in voting. Democrats are clamoring for it," Mr Trump tweeted on Wednesday.
"Tremendous potential for voter fraud, and for whatever reason, doesn't work out well for Republicans."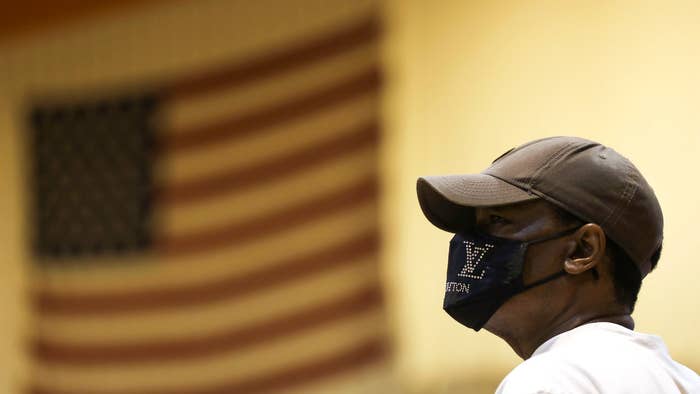 The comments follow Republicans' successful attempts to stop the Wisconsin primary election being delayed or provide many voters with mail-in options. The state's supreme court voted along party lines to overturn the Democratic governor's last-minute bid to delay the primary amid the coronavirus pandemic.
Speaking at the daily White House press briefing on the coronavirus pandemic on Tuesday, Mr Trump said he was not in favour of using vote-by-mail options if the outbreak stops people from going to the polls in 2020.
He said "a lot of people cheat with mail-in voting", which he claims is one of the reasons he didn't win the popular vote in 2016.
"I think people should vote with ID, voter ID. I think voter ID is very important, and the reason they don't want voter ID is because they intend to cheat," he said.
"It shouldn't be mail-in voting. It should be you go to a booth and you proudly display yourself. You don't send it in the mail where people can pick up – all sorts of bad things can happen ... by the time it gets in and is tabulated."
While more than a dozen states delayed their primaries due to the health crisis, Wisconsin went ahead after the state's supreme court overruled Democratic Governor Tony Evers' executive order postponing in-person voting. The US Supreme Court also blocked a court order on Monday that extended the period to return absentee ballots by six days.
The refusal to extend absentee voting in Wisconsin would lead to "massive disenfranchisement", liberal justice Ruth Bader Ginsburg wrote in a dissent to the court's 5-4 ruling on Monday.
"The question here is whether tens of thousands of Wisconsin citizens can vote safely in the midst of a pandemic," Ms Ginsburg wrote. "With the majority's stay in place, that will not be possible. Either they will have to brave the polls, endangering their own and others' safety. Or they will lose their right to vote, through no fault of their own.
"That is a matter of utmost importance – to the constitutional rights of Wisconsin's citizens, the integrity of the State's election process, and in this most extraordinary time, the health of the Nation," she continued. "While I do not doubt the good faith of my colleagues, the Court's order, I fear, will result in massive disenfranchisement."
While the president criticised mail-in voting, he also said during his press conference that he was "allowed" to vote by mail in Florida's primary because he was out of the state.
"There's a big difference between somebody that's out of state and does a ballot and everything is sealed, certified and everything else," he said.
The president has rejected a Democrat push for election reforms that would include vote-by-mail, same-day registration and early voting for states preparing to hold elections during the Covid-19 crisis.
While Democrats sought $4bn in the coronavirus stimulus package for states to prepare for primaries and the general election during the pandemic, the version signed into law included $400m in funding.
In an appearance on Fox & Friends last week, Mr Trump said the Democrat proposals for the stimulus "were crazy".
"They had things, levels of voting that if you'd ever agreed to it, you'd never have a Republican elected in this country again," he said. "They had things in there about election days and what you do and all sorts of clawbacks. They had things that were just totally crazy and had nothing to do with workers that lost their jobs and companies that we have to save."